The problem with doing long runs with a group is when you think you know where you're going and you fall behind. Of course, that is what happened this morning.
The loop we run covers 10 miles and there are water and Gatorade stations every 2-3 miles. There are so many people running that you are either passing or getting passed by runners the entire time and there are people that start at different points and going both directions. It's crazy how many people are out on this course at 6am.
I tried to find a video on the internet, but I guess that would be hard to do. That is record and run at the same time. I've seen people do it and the results usually aren't that spectacular. Bouncing and cameras are not friends. Well, I was able to find the course map online (obviously after I got home) and if you look just before the 5 mile mark, you can see a school called Rollins College. That's where I went the wrong direction somewhere and ended up on their campus for like 5 minutes walking around trying to find the road out of there.
I was frustrated and started getting mad at myself and at the idea of the course going through this campus in the first place. I knew I could just go around the school and continue on, but I wanted to find my way. And the whole "guys don't stop and ask for directions" doesn't apply here, because I couldn't really ask one of the maintenance guys to point me in the direction of my running group. I mean, maybe I could...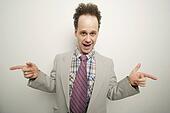 I figured that I had to be at least half a mile since I hit the 4 mile water stop and if I just went back the way I came, then I'd have 9 miles logged. So that's what I did. It ends up that I logged 9.74 miles, so it worked out quite well. And for good measure since I wasn't sure how far I had gone, I loosened my laces and slowly jogged another mile after finishing. Total for the day was around 10.8 miles.

At least I have a map of the course now. Thanks Joel for posting it to your Daily Mile. Next time will be better.